When you think of Gainesville, FL, the first association you probably make is the University of Florida. It makes sense – UF is one of the nation's top public universities, and it just so happens to reside in a pretty small town.
If there's a second association you'd make, though, it should be Gainesville's abundant natural beauty and life. From dense blankets of maples, palms, and oak trees to the miles of swamp and marshlands in and around the city, Gainesville is rich with picturesque Floridian beauty. Even better is how easily accessible it all is! No matter where you are, you'll always be close to some of the state's finest trails and parks. Pack your comfy shoes and immerse yourself in nature with these amazing hiking trails in Gainesville, FL.
La Chua Trail
The La Chua Trail winds through Paynes Prairie, one of Florida's most diverse nature preserves. Often associated with the vast, interminable plains of the west, wild horses and bison roam freely through Paynes Prairie, and the La Chua Trail offers countless opportunities to spot these animals in their natural habitat.
That's not all; along the boardwalk trail and especially on the dike to the watchtower at the end, you'll spot anywhere from one to two dozen alligators sunbathing or floating in the water. If you're spooked by the idea of being so close to gators without any barriers – no fences here, and it's not uncommon to see gators on the actual hiking trail! – La Chua Trail might seem intimidating. Conquer that fear, however, and you'll be treated to an amazing hiking experience.
Sunbathing gators at La Chua Trail | Photo: Arkon Soikaew
Sweetwater Wetlands Park
Much like La Chua Trail, Sweetwater Wetlands Park is another great trail for wildlife watchers. Alligators roam freely here, as do the many snakes that make up the area's healthy reptile population. Various birds take up residence in Sweetwater, like coots and limpkins. Sweetwater offers up to 3.5 miles of hiking along various trails, with offshoot paths occurring frequently throughout the area.
Gainesville-Hawthorne State Trail
The Gainesville-Hawthorne State Trail tells a story as you walk it. Stretched out across 16 miles with passages through Paynes Prairie and many other points of interest, this winding trail reveals old railbeds transformed by time into verdant leisurely trails. As you hike past landmarks like concrete mileage and whistle markers, you'll gain a deeper understanding of the history permeating the area.
Mill Creek Preserve West
Driving along the curtains of pine forests of Mill Creek Preserve is one thing; hiking through them is another experience altogether. Trek through the southernmost American beech forest and marvel at the ancient trees whose limbs have outstretched over the landscape for untold time. Two trails comprise nearly five miles of hiking, giving you the freedom to choose the route that suits you.
Devil's Millhopper
Given its petrifying name, you might think this trail would be a Herculean trial. In fact, the name belongs to the park's defining feature: a 120-foot deep and 500-foot wide sinkhole. The trail here pushes through dense forests of trees before opening up to a set of staircases which spiral down into the sinkhole. The journey ends at an observation deck overlooking the bottom of the sinkhole.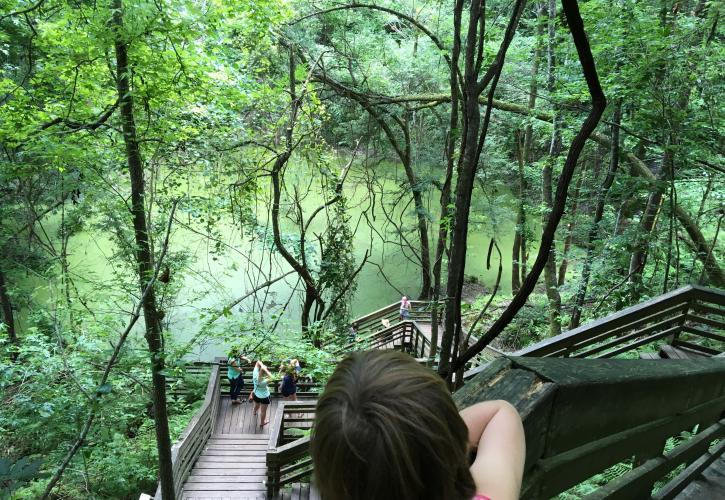 The view from the bottom of Devil's Millhopper
Watermelon Pond
Hiking through the wide-open prairies of Watermelon Pond lends a sense of liberating solitude and tranquility that's hard to find. It's one of the drier hikes in the area (an unfortunate side effect of continued development), though you'll be treated to a string of panoramic views of the seemingly boundless prairielands.